Second transnational meeting Bulgaria
Plus Blended Mobility of school learners
One of the major advantages of an Erasmus+ project is having the possibility of spending some time working together. Mobilities such as this meeting in Bulgaria are an example of this.
On this page you will find a summary of the activities carried out within our Erasmus + project EMSL during the meeting in Haskovo (Bulgaria). This meeting took place in September 2018.
Plovdiv
On our first day together we visited Plovdiv, European Capital of Culture 2019. A guided tour of the city allowed us to discover some aspects of its history.
When we returned to Haskovo we attended a concert of the folk ensemble "Kitna Trakia" organized at Svoboda square. This event was organized to celebrate one of the National Holidays – the Unification of Bulgaria (6th September, 1885).
Working Sessions
After a coffee break the work started:
Students formed international groups and selected the tools and ideas they were to use for the creation of their digital book.
Teachers presented the work carried out by the project partners during the first year:

Website of the project presented by the Spanish team.
eTwinning platform work: structure and contents of the project information published in eTwinning. Presented by the French, Italian and Bulgarian teams.
Shared project disk space. Presented by the Spanish and Bulgarian Team.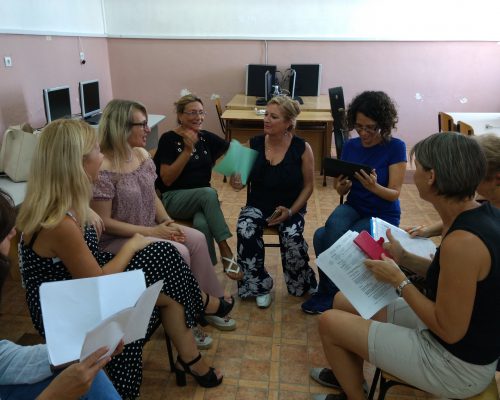 Working sessions and training workshop
While students were at Svoboda square watching Brass Orchestra and Majorette Group "Haskovo", teachers continued their work: discussing various ways for dissemination of the project activity outcomes; reporting the outcomes of the poll concerning the project mobility in France (impact on students, teachers and parents); and holding of an eTwinning workshop on: Using new technologies to develop entrepreneurial skills. Members of the Bulgarian and French teams were the workshop trainers.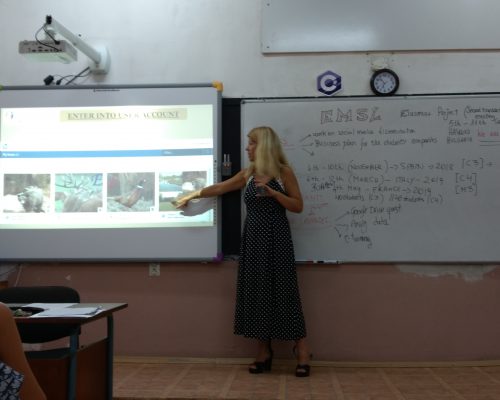 Second Working Day of the Transnational Meeting
For students we combined culture activities, such as a retro vehicle parade and a demonstration of the Pottery Craft, with working sessions for their assignment on the digital book.
Teachers had a complete day of working sessions: Project activity timetable and reporting forms – quantitative and qualitative indexes; discussing the Interim Project Report information; discussion of the Second Training Activity Program in Spain; and presentation of the results of the teacher workshop on the first working day.
Students' presentation
Each team prepared a presentation about some typical dances or songs of their regions. We could see the Spanish team playing the Spanish guitar and dancing "Sevillanas"; the French team signing "Les Champ Elysìes and Sur le Pont d' Avignon"; the Bulgarian group presenting their traditional dances; and the Italian group presenting the " Gastronomic culture, the 8 most famous Italian Monuments, Traditional celebrations , dances and songs".